March 11, 2019 at 21:39
#989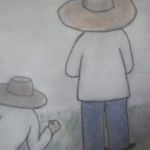 LittleMan
Keymaster
If, besides the horrid factory DA trigger pull there is a failing of the P64 it would be in terrible factory sights. A solution exists. Grind or machine off the factory front sight and replace it with a small fiber optic (aka light pipe). Light pipes are available in many colors, blue, green, red, white, etc. The difference is dramatic.
Here you can see a P64 as it left the factory above and alongside a P64 that has been personalized with a better (Wolff) mainspring, wooden grips and a fiber optic front sight.
You can see from the personalized P64 being aimed at a door the improvement in quick acquisition of the target is dramatic.